Первая иллюстрация к книге Джаз. 100 самых знаменитых произведений (CD-MP3)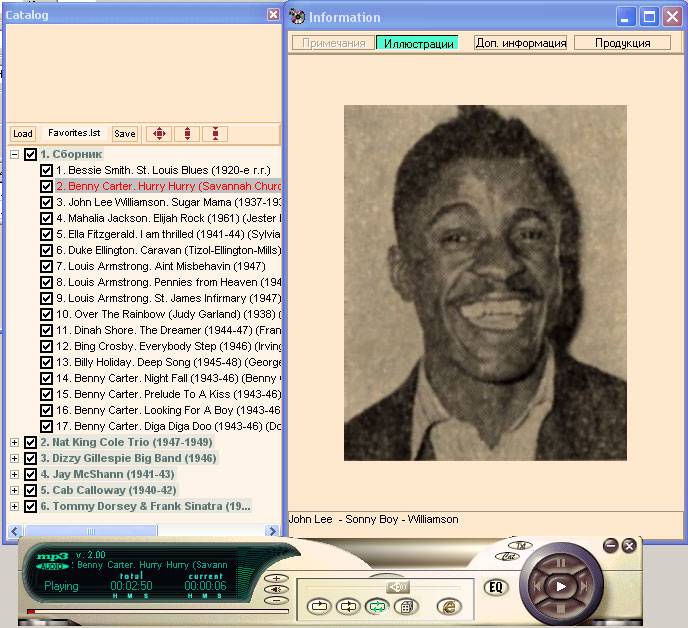 1. Сборник
Bessie Smith. St. Louis Blues (1920-е г.г.)
Benny Carter. Hurry Hurry (Savannah Churchill, вокал) (1943-46) (Richard Larkin)
John Lee Williamson. Sugar Mama (1937-1939)
Mahalia Jackson. Elijah Rock (1961) (Jester Hairston)
Ella Fitzgerald. I am thrilled (1941-44) (Sylvia Dee, Sidney Lippman)
Duke Ellington. Caravan (Tizol-Ellington-Mills) (1945)
Louis Armstrong. Aint Misbehavin (1947)
Louis Armstrong. Pennies from Heaven (1947)
Louis Armstrong. St. James Infirmary (1947)
Over The Rainbow (Judy Garland) (1938) (Harold Arlen)
Dinah Shore. The Dreamer (1944-47) (Frank Loesser/Schueber, Dirk/Arthur Schwartz)
Bing Crosby. Everybody Step (1946) (Irving Berlin)
Billy Holiday. Deep Song (1945-48) (George Cory, Douglas Cross)
Benny Carter. Night Fall (1943-46) (Benny Carter)
Benny Carter. Prelude To A Kiss (1943-46) (Duke Ellington/Irving Gordon/Irving Mills)
Benny Carter. Looking For A Boy (1943-46) (George & Ira Gershwin)
Benny Carter. Diga Diga Doo (1943-46) (Dorothy Fields/Jimmy McHugh)
2. Nat King Cole Trio (1947-1949)
Meet Me At No Special Place
Naughty Angeline
I Miss You So
That's What
When I Take My Sugar To Tea
What'll I Do
This Is My Night To Dream
Making Whoopee
There I Have Said It Again
I'll String Along With You
Too Marvelous For Words
Love Nest
Dream A Little Dream Of Me
Little Girl
No Moon At All
If I Had You
For All We Know
'Tis Autumn
Yes Sir, That's my Baby
I Used To Love You
Don't Let You Eyes Go Shopping
Ooh Kickeroonie
3. Dizzy Gillespie Big Band (1946)
Our Delight
Goog Does Blues
One Bass Hit
Rays Idea
Things To Come
Emanon
He Beeped When He Shoulda Bopped
I Waited For You
4. Jay McShann (1941-43)
Swingmatism
Hootie Blues
Dexter Blues
Lonely Boy Blues
Get Me On Your Mind
The Jumpin' Blues
Sepian Buonce
Say Forward Ill March
Wrong Neighborhood
Hometown Blues
5. Cab Calloway (1940-42)
Hot Air
I See A Million People
Willow Wheep For Me
The Mermaid Song
Special Delivery
St. James Infirmary
Geechy Joe
Hep Cats Love Song
Hey Doc
You Are The One In My Heart
Goin' Conga
Lonesome Nights
Chattanooga Choo Choo
Toppin' Off
Minnie The Moocher
Let's Go Joe
Nain Nain
Lardy
Ogeechee River Lullaby
Make Yourself At Home
The Moment I Laid Eyes On You
I Want To Rock
Says Who
6. Tommy Dorsey & Frank Sinatra (1940)
Imagination
I'll Never Smile Again
Hear My Song Violetta
Fools Rush In
This Is The Beginning Of The End
The Sky Fell Down
Shake Down The Stars
Moment In The Moonlight
Say It
The Fable Of The Rose
Devil May Care
Tha Call Of The Canyon
Love Lies
The World Is In My Arms
Our Love Affair
Lookin For Yesterday
We Three
When You Awake
Anything
You're Breakin' My Heart
Общее время звучания: 5 ч. 2 мин.
Диск содержит 100 треков в формате mp3.
192 kBit/sec o 44,1 kHz, Stereo o MPEG Audio Layer 3
Этот диск не может проигрываться на стандартном Audio CD плеере.
Этот диск может быть использован на:
- CD, VCD, DVD аппаратуре со встроенным декодером MP3
- персональном компьютере.
Системные требования
Операционная система: Windows 98/ME/NT/2000/XP
Процессор: Pentium 100 MHz
Память: 16 Mb
Видео: SVGA
Звуковая карта
CD-ROM: 4х
CD-MP3, тип упаковки: jewel.