Первая иллюстрация к книге Большая энциклопедия джаза (CDmp3)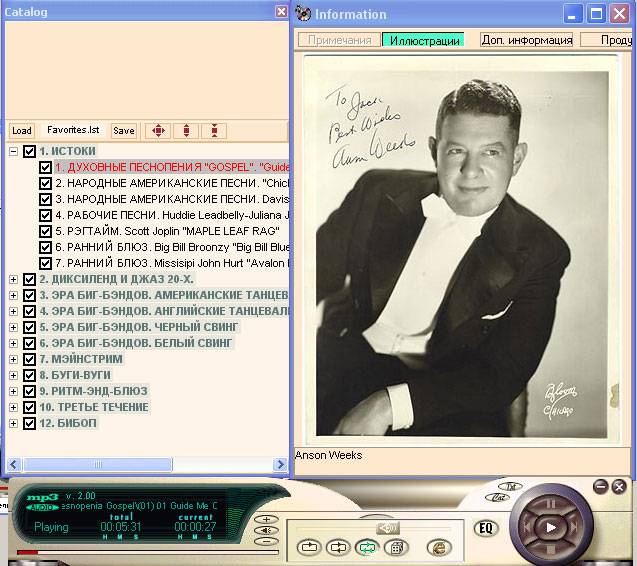 Содержание
1. Истоки
Духовные песнопения "Gospel". "Guide Me O Thou Great Jehovah"
Народные американские песни. "Chick-a-li-lee-lo"
Народные американские песни. Davis Sisters. "When I Get Inside"
Рабочие песни. Huddie Leadbelly-Juliana Johnson. Песня при работе топором
Рэгтайм. Scott Joplin "Maple leag rag"
Ранний блюз. Big Bill Broonzy "Big Bill Blues"
Ранний блюз. Missisipi John Hurt "Avalon Blues"
2. Диксиленд и джаз 20-х
Bix Beiderbecke & Frankie Trambauer. "Singing The Blues"
Creole Jazz Band. "Dipper mouth blues" (1923)
New Orlean rhythm kings. "Tiger rag" (1922)
Sidney bechet "Maple leaf rag" (1932)
3. Эра биг-бэндов
Американские танцевальные оркестры
Cab Calloway. "Blues in the night"
Guy Lombardo. "Boo hoo"
Isham Johnes. "At sundown"
Paul Whiteman. "Whispering" (1920)
Английские танцевальные оркестры
Ambrose. "Girl play in mandoline"
Lew Stone. "She's a latin from Manhattan"
Ray Noble. "Movie star"
Черный свинг
Benny Carter. "Swinging the blues"
Count Basie. "Jumping at the woodside"
Duke Ellington. "Take the a train"
Fletcher Henderson. Christopher columbus"
Jimmie Lunceford. "Blues in the Groove"
Белый свинг
Artie Shaw. "Begin the beguine"
Benny Goodman. "One o'clock jump"
Bunny Berigan. "I can't get startad" (1937)
Glen Miller. "Little brown jag"
Harry James. "Two o'clock jump"
Tommy Dorsey. "Opus one"
Woody Herman. "At the woodchoppers ball"
4. Мэйнстрим
Benny Goodman Quartet. "Somebody loves me"
Ben Webster. "Night and day"
Buck Clayton. "High life"
Choo Berry Ensemble. "Sittin' in"
Coleman Hawkins. "Udecided"
Earl Bostic. "Flamingo"
Ellington-Straihorn. "Bang-up- blues"
Jack Teagarden (1950). "Baba wan't you please come home"
JAM-1949. "How high the moon"
Kansas city five. "Oh lady be good"
Le jazz hot. "Honeysuckle rose"
Lester young (1939). "China boy"
Louis Armstrong-Esquire jazz concert. "Basin street blues"
Roy Eldridge. "After you've gone"
5. Буги-вуги
Ammons-Lewis-Johnson. "Boogie woogie prayer-1"
Tommy Dorsey. "Boogie woogie"
6. Ритм-энд-блюз
T-Bone Walker. "Call it stormy monday" (A. Walker) (1929-50)
Muddy Waters. "Burr clover blues" (1941-48)
7. Третье течение
Jazz Abstractions (1961). "Abstraction"
J.J.Johnson. "Fantasia"
John Levis. "Three little feelings"
Oliver Nelson. "Finale"
Orchestra USA. "Hex"
Stan Kenton. "City of Glass - Entrance to the city"
Stan Kenton - R. Wagner. "Pilgrims choir from tannhaeuser"
8. Бибоп
Charlie Parker. "Be bop"
Gillespie-Parker-Powell. "Salt peanuts" (1953)
Miles Davis. "Dig" (1951-53)
Sonny Sitt-Bud Powell. "All god's chillin got rhythm" (1949-50)
Stan Getz -J.J.Johnson. "Billie's Bounce" (1952, Charlie Parker)
Общее время звучания: 4 ч.
Диск содержит 60 треков в формате mp3.
192 kBit/sec, 44,1 kHz, Stereo, MPEG Audio Layer 3
Системные требования
Операционная система: Windows 95/98
Процессор: Pentium 100 MHz
Память: 16 Mb
Звук
CD-ROM: 8x.
Комплектность: 1 диск в упаковке.
Тип упаковки: Jevel.