Первая иллюстрация к книге Сборник инструментальной джазовой музыки (CDmp3)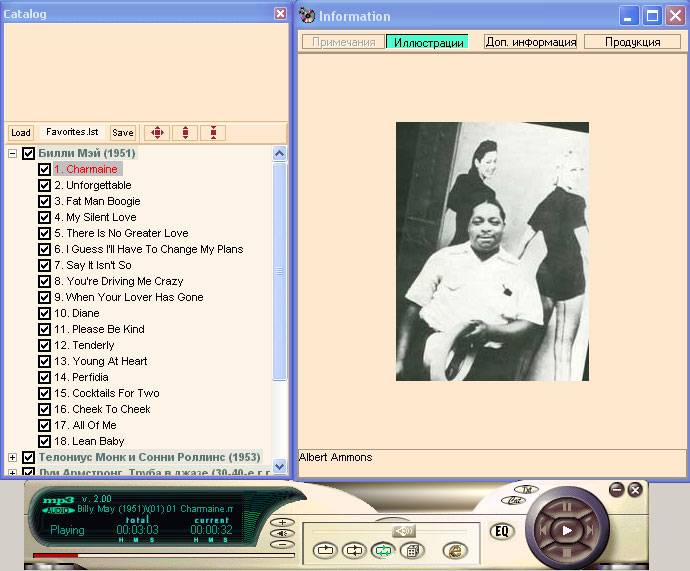 1. Билли Мэй (1951)
Charmaine
Unforgettable
Fat Man Boogie
My Silent Love
There Is No Greater Love
I Guess I'll Have To Change My Plans
Say It Isn't So
You're Driving Me Crazy
When Your Lover Has Gone
Diane
Please Be Kind
Tenderly
Young At Heart
Perfidia
Cocktails For Two
Cheek To Cheek
All Of Me
Lean Baby
2. Телониус Монк и Сонни Роллинс (1953)
The Way You Look Tonight
I Want To Be Happy
Work
Nutty
Friday the 13th
3. Луи Армстронг. Труба в джазе (30-40-е г.г.)
Muskrat Ramble
Perdido Street Blues
Shanghai Shuffle
St.Louis Blues
Struttin with Some Barbecue
Wolverine Blues
4. Дюк Эллингтон. "Concerto For Cootie" (1940)
All Too Soon (Ellington)
Blue Goose (Ellington)
Concerto For Cootie (Ellington)
Dusk (Ellington)
Morning Glory (Ellington-Stewart)
My Greatest Mistake (Fulton-Obrien)
Warm Valley (Ellington)
Noir Bleu (Strayhorn)
5. Знаменитые саксофонисты
(сопрано-саксофон) Сидней Беше. Petite Fleur (1951-52)
(альт-саксофон) Джулиан Кэннонбол Аддерлей. Hi-Fly
(альт-саксофон) Чарли Паркер. April in Paris (1945-1953)
(альт-саксофон) Чарли Паркер. Summertime (1945-1953)
(тенор-саксофон) Коулман Хоукинс. Picasso (1948)
(тенор-саксофон) Коулман Хоукинс. Body And Soul (1939)
(тенор-саксофон) Коулман Хоукинс. Swinging In The Groove (1938)
(тенор-саксофон) Лестер Янг. Neenah (1950)
(тенор-саксофон) Лестер Янг. Body And Soul (1942)
(тенор-саксофон) Лестер Янг. Just You Just Me (1943)
(тенор-саксофон) Лестер Янг. Lester Blows Again (1945)
6. Вуди Герман - кларнет
At the Woodchoppers Ball (1917-1934)
Bijou (1945-47)
Caldonia (1945-47)
7. Бенни Гудмен - кларнет
Rapsody in blue (1942) (Дирижёр Артуро Тосканини,Эрл Вайлд, фо-но, СО NBC)
Rosetta (1936-37)
In A Sentimental Mood (1936-37)
Stomping At The Savoy (1936-37)
8. Джанго Рейнхардт - гитара в джазе (1938)
Gabriel's Swing (Combelle)
Doin' The New Low Down (Fields - McHugh)
Body & Soul (Green - Heyman - Sour - Eyton)
Lover Come Back To Me (Romberg - Hammerstein)
My Melancholy Baby (Burnett - Norton - Myabelle - Bergman)
I Got Rythm (Gershwin - Gershwin)
Billets Doux (Reihardt - Grappelly)
Swing From Paris (Reihardt - Grappelly)
Them There Eyes (Pinkard - Tracy - Taubert)
Three Little Words (Ruby - Kalmaar)
9. Фортепиано в джазе
Арт Тэйтум
Tea For Two (1933)
Time On My Hands (1949)
I've Got My Love To Keep Me Worm (1937)
Chloe (1937)
Tiger Rag (1940)
Lullaby Of The Leaves (1940)
Cocktails For Two (1944)
How High The Moon (1940)
Боб Зурке
Cuban Boogie Woogie (1928-39)
Rhum Boogie (1925-41)
Мэри Лу Вильямс
Libra (1945)
Fandangle (1952)
Just You Just Me (1953)
It Ain't Necessarily So (1952)
Round About Midnight (1952)
Общее время звучания: 4 ч. 38 мин.
Диск содержит 80 треков в формате mp3.
256 kBit/sec, 44,1 kHz, Stereo, MPEG Audio Layer 3
Системные требования
Операционная система: Windows 95/98/МЕ/2000/ХР
Процессор: Pentium 100 MHz
Память: 16 Mb
Звук
CD-ROM: 4x.
Сделано в России.
2010 год.