Первая иллюстрация к книге Herbarium Amoris Floral Romance - Frangsmyr, Манкелль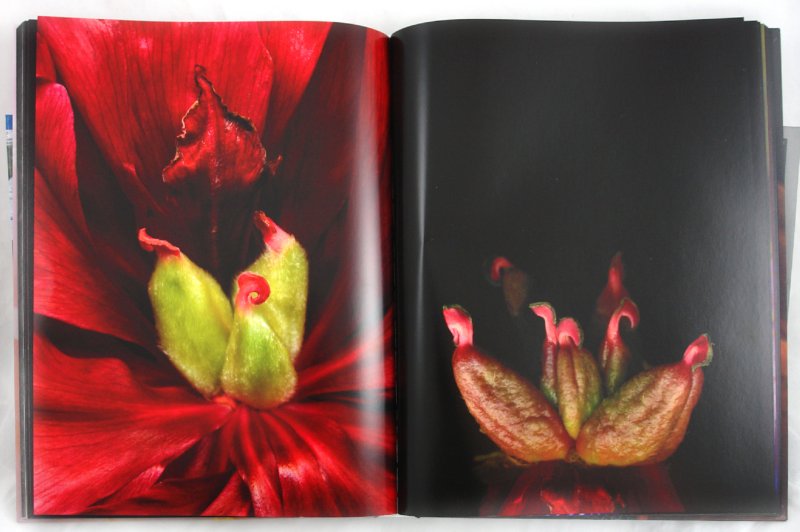 The notion of plant sexuality was initiated by Swedish botanist and physician Carl Linnaeus (1707-1778). Working with his collection of over 20,000 specimens, Linnaeus grouped flowers and plants in a Calendarium Florae, and systematically classified plant species by the number and arrangement of their reproductive parts, drawing direct parallels with human sexual organs. Highly controversial at the time, the assertion that a plant's stamens and pistils mirror human genitalia resulted in a 'sexual revolution' in plant taxonomy.
Swedish photographer Edvard Koinberg creates a modern visual counterpart to Linnaeus's work, approaching the subject with equal passion and dedication. Having cultivated several hundred plants in his country house, Koinberg photographs each delicate bloom in his studio under perfect lighting conditions, depicting the life cycle of various flora as they bud, flourish and wane, resulting in a modern Calendarium Florae, a visual calendar that charts the year through flowers.
In Herbarium Amoris, Koinberg captures the lyricism and refulgent eroticism of the floral world in vivid close-ups, shot against dark backgrounds, the dew glittering on outspread petals, the most delicate of vegetal forms infused with unbridled life force.
About the photographer:
Edvard Koinberg, born 1964 in Stockholm, Sweden, photographs plants in the artistic tradition of Sweden's Enlightenment and Dutch painters from the 17th and 18th centuries. His work has been exhibited extensively throughout Europe, the USA, Russia, China, Indonesia, South Africa, and Australia.
About the authors:
Tore Frangsmyr, born 1938, was professor of scientific history at Uppsala University, Sweden. A former director of the Center for History of Science at the Royal Swedish Academy of Sciences, his books include Linnaeus: The Man and His Work. He is a member of the Royal Swedish Academy of Letters, History and Antiquities.
Henning Mankell, born 1948 in Stockholm, is a widely renowned Swedish crime writer, occasional children's author, and dramatist. While living in Mozambique, he retains close ties to his native country. He is an admirer of Carl Linnaeus, perhaps the most outstanding figure of Scandinavia's Enlightenment era.
Издание на английском языке.