Первая иллюстрация к книге Roadside America - John Margolies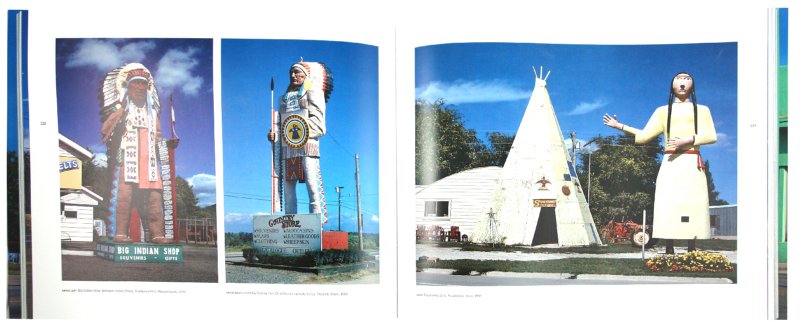 The native genius of America's mid-era automobile culture
Before the advent of corporate communications and architectural uniformity, America's built environment was a free-form landscape of individual expression. Signs, artifacts, and even buildings ranged from playful to eccentric, from deliciously cartoonish to quasipsychedelic. Photographer John Margolies spent over three decades and drove more than 100,000 miles documenting these fascinating and endearingly artisanal examples of roadside advertising and fantasy structures, a fast-fading aspect of Americana.
This book brings together approximately 400 color photographs of Main Street signs, movie theaters, gas stations, fast food restaurants, motels, roadside attractions, miniature golf courses, dinosaurs, giant figures and animals, and fantasy coastal resorts. In an age when online shopping and mega-malls have reconfigured American consumerism, stripping away idiosyncracy in favor of a bland homogeneity, Margolies's elegiac 30-year survey reminds us of a more innocent unpredictable and colorful past.
About the photographer:
John Margolies is an author, photographer, and lecturer on American architecture and design. For 30 years he has explored America's highways in search of unique architecture. Author of a dozen books, his photographs and articles have appeared in The New York Times Magazine, Esquire, Domus and Architectural Record.
About the editor:
Cultural anthropologist and graphic design historian Jim Heimann is Executive Editor for TASCHEN America, and author of numerous books on architecture, pop culture, and the history of the West Coast, Los Angeles, and Hollywood. His unrivaled private collection of ephemera has been featured in museum exhibitions around the world and dozens of books.
About the author:
Phil Patton writes about car design for The New York Times and is a contributing editor to ID magazine. He was a consultant for Curves of Steel: Streamlined Automobile Design at the Phoenix Art Museum, and Different Roads: Automobiles for the Next Century at the Museum of Modern Art in New York.
About the contributing author:
C. Ford Peatross is director of the Center for Architecture, Design and Engineering in the Prints and Photographs Division of the Library of Congress. He is the author of Eero Saarinen: Buildings from the Balthazar Korab Archive (2008).
Литература на английском, французском и немецком языках.