Первая иллюстрация к книге The Godfather Family Album - Steve Schapiro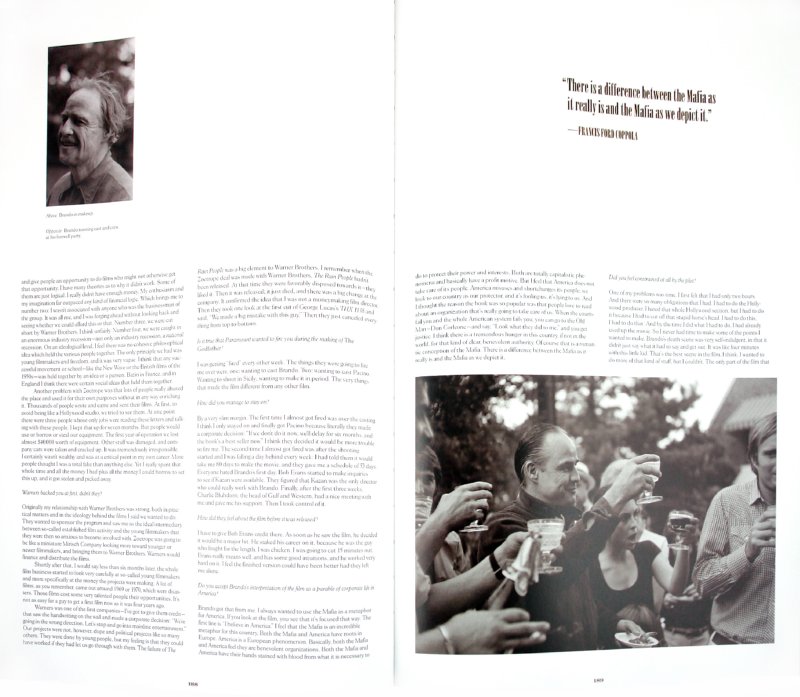 An offer you can't refuse
Never-before-seen photos of Coppola's masterpiece
Selections from Steve Schapiro's photographs provide an insider's view of the making of the legendary trilogy. This edition is limited to 1,000 copies, each numbered and signed by Steve Schapiro.
Imagine the experience of witnessing renowned actors as they made their most memorable performances. Steve Schapiro has had such a privilege as special photographer on some of American cinema's most beloved movies. For Francis Ford Coppola's Godfather trilogy, Schapiro immortalized actors such as Marlon Brando, Al Pacino, Robert De Niro, James Caan, Robert Duvall, and Diane Keaton. His photographs of the Godfather holding the cat and the whisper in the Godfather's ear have become iconic images known throughout the world. Brought together in a book for the first time is a vast selection of images from all three Godfather films, reproduced from Schapiro's original negatives.
This lavish, limited edition book, which also includes background articles and interviews about the films, contains over 400 color and black & white images, most of which have never been published before. It allows fans a privileged peek behind the scenes at the making of film history and it truly is a once-in-a-lifetime offer you can't refuse.
Also available: The Art Edition, limited to 200 numbered copies, each signed by Steve Schapiro and accompanied by one of two original prints.
The photographer:
Steve Schapiro is a distinguished journalistic photographer whose pictures have graced the covers of Vanity Fair, Time, Sports Illustrated, Life, Look, Paris Match, and People, and are found in many museum collections. He has published four books of his work, American Edge, Schapiro's Heroes, The Godfather Family Album and Taxi Driver. In Hollywood he has worked on more than 200 motion pictures; his most famous film posters are for Midnight Cowboy, Taxi Driver, Parenthood, and The Godfather Part III.
The editor:
Paul Duncan has edited 50 film books for TASCHEN, including the award-winning The Ingmar Bergman Archives, and authored Alfred Hitchcock and Stanley Kubrick in the Film Series.