Первая иллюстрация к книге 11.22.63 - Stephen King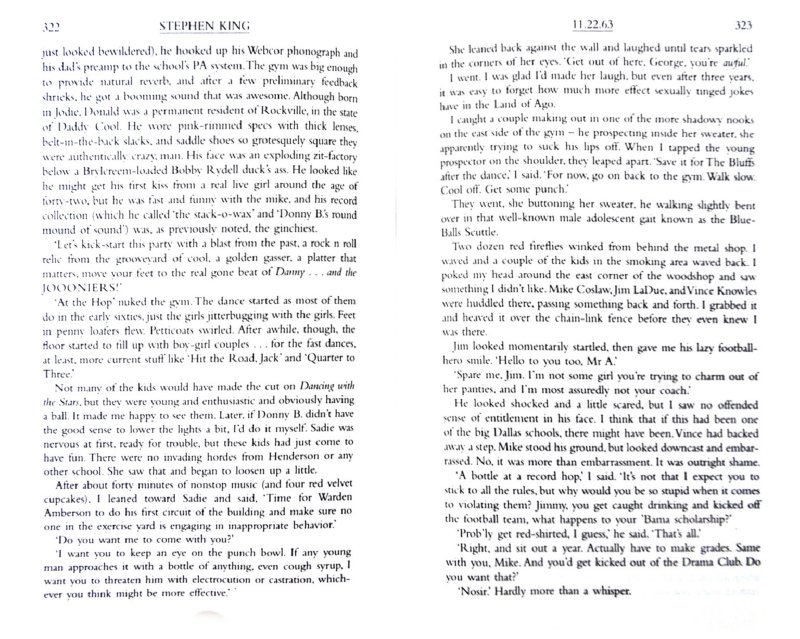 Jake Epping is an English teacher in Lisbon Falls, Maine, who makes extra money teaching in an adult education programme. One day, he receives an essay from one of his students - a harrowing first person story about the night, fifty years earlier, when Harry Dunning's father came home and killed Harry's mother, his sister, and his brother with a sledgehammer.
Later, Jake's friend Al, who runs the local diner, divulges an extraordinary secret: his storeroom is a portal to 1958. He enlists Jake on an insane - and insanely possible - mission to try to prevent the Kennedy assassination.
Inspired by his desire to put things right for Harry Dunning, Jake leaves a world of iPods and mobile phones for a new world of Elvis and JFK, of big American cars, root beers and Lindy Hopping. It is a haunting world of a troubled loner named Lee Harvey Oswald and a beautiful high school librarian named Sadie Dunhill, who becomes the love of Jake's life - a life that transgresses all the normal rules of time.
With extraordinary imaginative power, King explores the culture of the era and weaves it into a devastating exercise in escalating suspense. 11.22.63 is a love story, a tribute to a simpler time and place and a heartstopping What If? tour de force the like of which no-one has ever read.